Rooms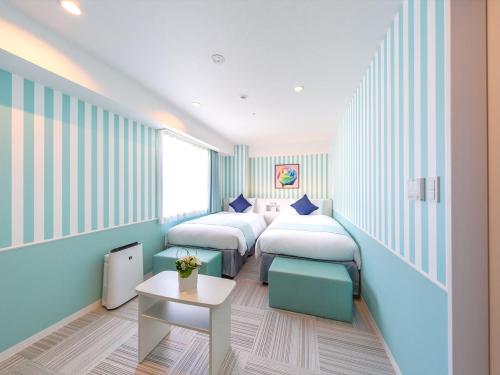 The modern, stylish atmosphere of New York City is expressed by the colours white and aquamarine. There are several different room designs available, and they all aim to express the modern and yet elegant elements of urban life, while also providing with a sense of cleanliness and comfort.
Front & Lobby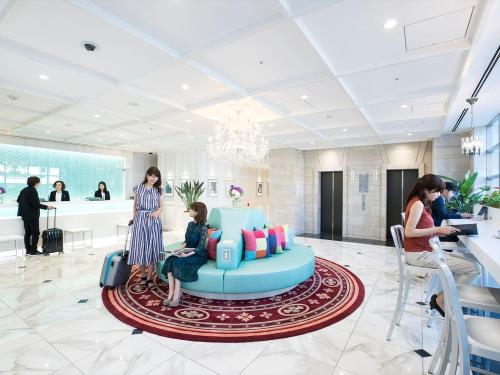 The circular sofa in the centre of the lobby evokes the image of a buzzing city that is never asleep. Facing the window, a high counter is set up, where guests can enjoy a cup of coffee and the modern, urban atmosphere even as they are waiting for someone. The glittering luxury of the crystal chandelier in juxtaposition with the black-and-white artwork depicting the modern townscape of New York City creates the perfect atmosphere that makes you want to linger in our lobby for longer.
Ladies Floor
The abundant use of pink and red serve as the keynotes for the design on the ladies' floor. Lattice patterns, ribbons, and the soft lighting make the feminine design of the floor more nuanced and invite you into a whole different world. The ladies' floor is also equipped with a ladies-only party room and a public bath.
Public Bath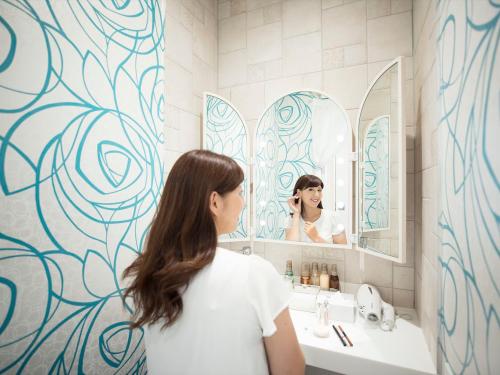 The simplistic elegance of the contrasting black and white is used to create a stylish atmosphere in the male bathhouse. You may relax in the bath after a busy day and enjoy the night view of New York City, set up as the decoration.
In contrast, the female bathhouse uses soft and warm tones of white and aquamarine in its design, to provide a sense of cleanliness. In addition, the female bathhouse also features a private room-type powder room, which allows women to comfortably get ready for the day, or the night, at their own pace.